Lotto Winners 05 March 2019
The People Who Won Big With Us
Lottoland's Greatest Ever Lottery Wins
Which Lucky Winners Claimed the Largest Prizes?
Christina won €90 Million (or $143.75m AUD) on the EuroJackpot through Lottoland. Her career as an office cleaner was over and she travelled the world with her winnings. The most incredible thing about her story is that Christina's big win came with only her second bet. Read the full story in our magazine article "Cleaner sweeps up Record Jackpot"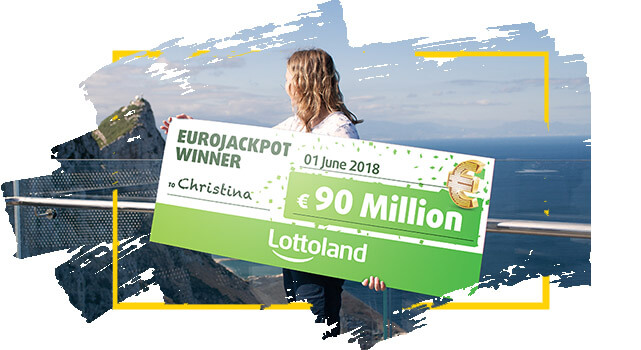 Matthias won €22.3m ($35.6m AUD) on the German Lotto. He was our biggest winner from April 2016 before Christina came along and smashed his record out of the water in June 2018. He bought a Ferrari amongst other things.
Michael won €14m ($22.38m AUD) just a few months before Matthias' big win. He travelled to Gibraltar to collect his cheque but wanted to keep his anonymity as a private person. We understand he carried on working.
We also welcomed the following big winners:
50-year-old Mr Logan from the UK won more than £5 million ($8.9m AUD) from a £3 bet on the Irish Lotto with Lottoland
A syndicate from outside Spain claim a €4m ($6.3m AUD) prize from the Spanish Christmas lottery El Gordo. Their identity was kept secret
Mario, an Italian ex-part won €3.2m ($5.1m AUD) on the German Lotto and decided to move back the family back to the home country
A Brit called Adam from the Midlands of England to win €2.9m ($4.6m AUD). He was able to give up his haulage transport job
Nina from Germany won a prize on the Eurojackpot after taking a break for a few months. She claimed €1.8m ($2.8m AUD)
Another Mathis claimed €1.2m on the American Powerball ($1.9m AUD)
Gunter won €1m on the EuroMillions Instant ($1.6m AUD)
A man named Michael won €1m on Instant Millionaire
Here's our top ten list of the all-time biggest Lottoland winners, including details of how much they won, where they are from and the lottery they bet on to get their big win. And who knows, if luck is on your side perhaps your name will appear in an updated version of this article!
Top 10 Lottoland Winners
Number
Name
Lottery
Winnings
Country
Date
1
Christina
€90,000,000
Germany
Jun 2018
2
Matthias
€22,319,000
Germany
Apr 2016
3
Michael
€14,046,000
Germany
Feb 2016
4
Mr Logan
£5,000,000
Ireland
Sep 2019
4
Anonymous
€4,000,000
Germany
Dec 2015
5
Mario
€3,159,000
Germany
Mar 2016
6
Adam
£1,840,000
United Kingdom
Aug 2015
7
Nina
€1,825,000
Germany
Aug 2018
8
Mathias
€1,202,000
Germany
Feb 2016
9
Günter
€1 million
Germany
Mar 2017
10
Michael
€1 million
Germany
Feb 2017
Note that the lottery winnings figures have been rounded to the nearest thousand.
Is it any wonder Lottoland was voted the lottery operator of the year in 2017? That's right, the prestigious International Gaming Awards granted us this title in February of that year. The reason is simple – we make it easy for players:
Bet on international lotteries regardless of your location
You are not actually playing the lottery, but betting on the outcome
Prizes typically match or exceed the value of the lottery prize
10 million happy customers play every week with Lottoland
These are just a small number of the incredible Lottoland winners from around the world. Sign up today and you could become another one.
Which Lucky Winners Claimed the Largest Prizes?
While many people keep their anonymity after a win, there are plenty of winners who want to share their happiness with the world. Everyone dreams of winning the lottery, even celebs who don't need the money are drawn to the power of a big prize. Fast cars and round-the-world trips are common, but some people are concerned to put the money to good use.
Jason from Florida bought a golf course, making his lottery winnings work for him and providing him with a steady income
Peter Lavery from N. Ireland opened a rental property portfolio and bought a whiskey distillery, providing housing in the former case and jobs in the latter
An American lottery winner known as "Brad" bought a chain of gyms and expanded a property portfolio for guaranteed income
Tom Crist from Calgary, Alberta, Canada donated all his big win ($40m CAD or $42.5m AUD) to charity
The infographic has some interesting stats showing that Lottoland winners are largely a generous bunch. There are also even some famous names in there. When Madonna won €120,000 ($191,800 AUD) on the lottery, she used the money to build a school in Malawi. Lottery winners don't just exist in the real world either. Perhaps the most famous fictional lottery winner is Lost's "Hurley" played by Jorge Garcia. Poor Hurley didn't have much luck although Nicolas Cage in It Could Happen To You certainly did.

Lottery Love and Friendship
Big lottery winnings can take people on trips where they meet the love of their life where they might never have had that chance before. Tales of love and romance founded on the back of a lottery ticket are everywhere.
Take the story of Matt Myles who won £1m (around $1.6m AUD). He took a group of friends on a 22-stop tour of the world, spending half of his winnings. On his return, he met the love of his life and they went off travelling together for a while
The film It Could Happen To You in which Nicholas Cage offers to share any lottery winnings with the waitress after not having enough money to pay a tip was based on a real story. In reality, the Police Officer who made the offer was acquainted with the waitress, but both were already married to other people. They did not get together
A married couple in their 70s felt winning the lottery was "nothing" compared to having each other and gave away an $11.2m fortune
And finally, the story of a very long engagement between Tony Pearce and Deb Gelatly. 30 years to be exact, but it was bad fortune that led them there. Tony had to give up work after a heart attack. They decided to wait until they could afford it. A £1m ($1.6m AUD) finally allowed them to marry
---